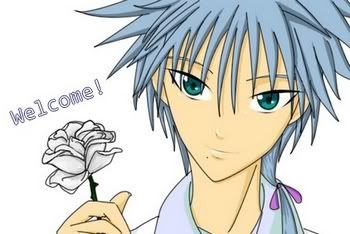 Hi ! Nice to meet you.
My journal is in order to promote my futur personal website.
Add me if you want to be informed when my website will be open.
I'm currently working on it with Yagyuu's girlfriend~
It's not a RP account!
Be sure to be added back. Please leave a comment and introduce yourself ;) I'm always happy to know more about you. Don't add me if you're the kind of person who do friend-cut without telling anything, that's really hateful. Besides, it make people thinks you're too "awesome" for them, don't you think? I'm a very spiteful~ (two persons are already on my black list)
Obviously, this website will contain my drawings.(you can have a sample of my drawings with my icons or take a look at my lj for my drafts).
For now, this journal will be about my (boring) life and will contains my drawings. I'll draw myself as Niou. It's more funny for me like this. I don't like to draw myself, it's a bit narcisistic. Perhaps I don't explain it very well, I'm sorry about that.
In other words, this journal will tell you about my life, illustrated with Pot fanarts. I'll be Niou, and my friends could be anyone of Prince of tennis.
For instance, Niou is closed to Yagyuu. I can draw my best friend as Yagyuu. If I do something weird with my best friend, I'll tell it to you with a drawing where Niou stands for me and Yagyuu stands for my best friend...
Is it clear like this ? In fact this journal will contain a lot of Pot cracks based on my real life =)
List of Pot characters/friends:
Niou: me
Akutsu: my younger brother
Yagyuu: my best friend S (female IRL)
She has a bf, and I'm jealous of this guy for spending so much time with her
(his nickname is "Yagyuu's girlfriend" or "Miss Apple")
Sanada: my friend M. (female IRL)
nickname: "Dad" XD
Bunta (used to be Sakuno): my friend L. (female IRL)
Yukimura: my "friend" V. (femal IRL)
I don't talk to her anymore for many reasons
Fuji: my "friend" Vi.(male IRL)
For the same reasons as V. I erased him from my head
Atobe: a "friend" (male IRL)
Ore-sama has a very hateful behaviour but he can be helpful sometimes
(more to come I guess ...
I can't make up my mind with some people ^^;
Most of them don't even know that I have a lj account and don't know about their POT nicknames I attributed to them XD )
Statut: Don't take any request currently
Website statut: 20% done